Volledige SSX soundtrack bekend
36 vette nummers om op door de sneeuw te snijden.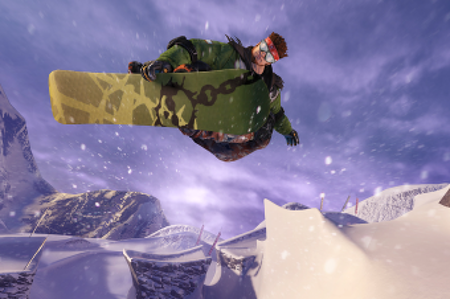 EA heeft de titels en artiesten van de 36 tracks die de SSX soundtrack bevat vrijgegeven.
De muziek komt van een diverse bende, met toppers als Digitalism, Nero, DJ Shadow, The Naked and Famous, The Hives en Two Door Cinema Club. Uitstekende keuze noemen wij dat. Gamers die hier echter hun smaak niet in herkennen kunnen natuurlijk nog steeds hun eigen muziek importeren.
Camo & Krooked - Breezeblock;
Camo & Krooked - Portal
Dels - Capsize ft. Joe Goddard & Roots Manuva
Digitalism - Blitz
DJ Shadow - I Gotta Rock (Irn Mnky Swagger Mix)
Felguk ft. Example - Plastic Smile
Flux Pavilion - I Can't Stop
Foster the People - Houdini
Handsome Furs - Damage
Hyper - Accelerate
J Boogie's Dubtronic Science - Magik (Egyptian Lover Remix) ft. Aima the Dream, Cait La Dee & Raashan Ahmad
Kid Digital - Done With That ft. Profit
Konrad Old Money - Big Error
Lateef the Truthspeaker - Oakland ft. Del the Funky Homosapien & The Grouch
Nero - Scorpions
Noisia - Could this Be
Noisia - Machine Gun
Pretty Lights - Hot Like Dimes
Raffertie - Twitch (It Grows and Grows: SSX Version)
Run-DMC - It's Tricky (SSX Pretty Lights Remix)
Skrillex - Scatta ft. Foreign Beggers & Bare Noize
Styrofoam Ones - Better
The Big Pink - Stay Gold
The Herbaliser - What You Asked For
The Hives - 1000 Answers
The Naked and Famous - Young Blood
The Prototypes - Your Future
The Qemists - Lifeline
The Qemists - Bones ft. Kellermensch
The Qemists - Stompbox
Theophilus London - I Stand Alone (Ocelot Mix)
TRS-80 - Mirage
Turbowolf - A Rose for the Crows
Two Door Cinema Club - Something Good Can Work (The Twelves Remix)
Wretch 32 - Traktor
Zion I and the Grouch; - Drop It on the 1
SSX verschijnt 2 maart op de PS3 en X360.