Releasedatum Amplitude bekend
Als ook de volledige tracklist.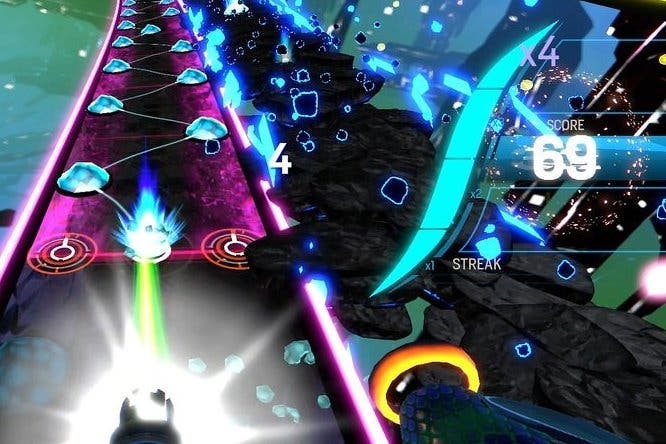 Ontwikkelaar Harmonix maakt bekend dat de ritmegame Amplitude vanaf 5 januari te downloaden is voor de PlayStation 4. De spirituele opvolger van het PlayStation 2-origineel is tot stand gekomen door een succesvolle Kickstartercampagne.
Heb je daar destijds aan bijgedragen en heb je meer dan 40 dollar geschonken, dan krijg je de game al op 23 december.
De volledige tracklist is nu ook bekend. Naast nummers van Harmonix zelf, vind je er ook muziek van componisten die eerder aan andere games werkten. Denk daarbij aan C418 (Minecraft), Jim Guthrie (Sword & Sworcery LP) en Danny Baranowsky (Crypt of the Necrodancer, Super Meat Boy).
Amplitude is een ritmegame waarbij je als een ruimteschip constant tussen verschillende banen moet wisselen. De game is zowel in je eentje speelbaar als in multiplayer, met of tegen elkaar.
"All The Time" - C418
"Assault on Psychofortress" - Single White Infidel
"Astrosight" - Inter:sect Ft. Noelle LeBlanc & Naoko Takamoto
"Break for Me" - James Landino Ft. Noelle LeBlanc
"Concept" - Symbion Project
"Crazy Ride" - Insomniac Games
"Crypteque (1-2)" - Danny Baranowsky
"Crystal" - George & Jonathan
"Dalatecht" - Harmonix
"Decode Me" - Inter:sect Ft. Noelle LeBlanc & Naoko Takamoto
"Digital Paralysis" - Harmonix
"Do Not Retreat" - Komputer Kontroller
"Dreamer" - Harmonix
"Energize" - Harmonix
"Entomophobia" - M-Cue
"Force Quit" - Jim Guthrie
"Human Love" - Harmonix
"I.C.U." - Harmonix
"Impossible" - Darren Korb
"Lights" - Wolfgun
"Magpie" - Harmonix
"Muze (Amplitude Remix)" - Ingrid Lukas, Remix by Patrik Zosso and Nik Bärtsch
"Perfect Brain" - Harmonix
"Phantoms" - Freezepop
"Recession" - Jeff Allen Ft. Noelle LeBlanc & Naoko Takamoto
"Red Giant" - Kodomo
"Supraspatial" - Jeff Allen Ft. Naoko Takamoto
"Synthesized" - Symbion Project
"Unfinished Business" - Shiohito Taki & Junichi Kamiunten
"Wayfarer" - Harmonix
"Wetware" - Harmonix
---
Nog wat tijd over? Geef deze artikels een kans: