Nintendo Switch Online: Lijst met alle NES, SNES, N64 en Sega Mega Drive-games
Deze Retro-games zijn nu speelbaar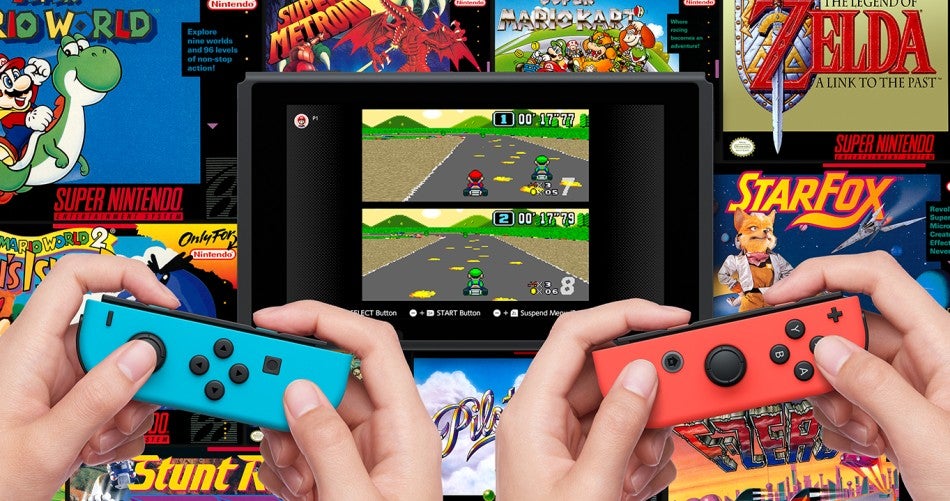 Nintendo Switch Online geeft abonnees toegang tot een uitgebreide bibliotheek van retrogames.
Tot welke titels je toegang krijgt, hangt van je abonnement af. Het standaard-abonnement zorgt enkel voor games voor NES en SNES en dankzij het uitbreidingspakket komen daar nog titels voor de Nintendo 64 en Sega Mega Drive bij.
In deze gids leggen we je per platform uit welke games er beschikbaar zijn.
Op deze pagina:
---
Nintendo Switch Online: lijst met alle NES-games
Hieronder vind je een lijst met alle NES-games die beschikbaar zijn in de Nintendo Switch Online-bibliotheek:
Nintendo Switch Online: Alle NES-games:
Balloon Fight
Baseball
Donkey Kong
Double Dragon
Dr. Mario
Excitebike
Ghosts 'n Goblins
Gradius
Ice Climber
Ice Hockey
The Legend of Zelda
Mario Bros.
Pro Wrestling
River City Ransom
Soccer
Super Mario Bros.
Super Mario Bros. 3
Tecmo Bowl
Tennis
Yoshi
NES Open Tournament Golf
Solomon's Key
Super Dodge Ball
Metroid
Mighty Bomb Jack
TwinBee
Adventures of Lolo (Enkel in het westen)
Ninja Gaiden
Wario's Woods
Zelda II: The Adventure of Link
Blaster Master
Super Mario Bros. 2
Kirby's Adventure
Kid Icarus
StarTropics (Enkel in het westen)
Super Mario Bros.: The Lost Levels
Punch-Out!! Featuring Mr. Dream
Star Soldier
Donkey Kong Jr.
VS. Excitebike
Clu Clu Land (Enkel in het westen)
Double Dragon II: The Revenge
Volleyball
City Connection
Wrecking Crew
Donkey Kong 3
Kung-Fu Heroes
Vice: Project Doom
Crystalis
Journey to Silius
Shadow of the Ninja (Enkel in het westen)
Eliminator Boat Duel (Enkel in het westen)
Rygar
The Immortal (Enkel in het westen)
S.C.A.T.: Special Cybernetic Attack Team (Enkel in het westen)
Nightshade (Enkel in het westen)
Fire 'n Ice
Ninja JaJaMaru-kun
EarthBound Beginnings
Dig Dug 2
Mappy-Land
Pinball
Daiva Story 6: Imperial of Nirsartia
Nintendo Switch Online: Alle speciale versies van NES-games:
Er zijn ook speciale versies (SP-versies) van bepaalde NES-games beschikbaar via Nintendo Switch Online. Daarmee kun je speciale voorwerpen krijgen of krijg je de kans om bij bepaalde punten te starten.
The Legend of Zelda - Living The Life of Luxury!
Gradius - Stage 5 And Maxed Out!
Gradius - The Second Loop
Metroid - The Decisive Battle Against Ridley!
Metroid - Samus Aran's Ultimate Arsenal
Dr. Mario - The UFO Cover-Up
Ninja Gaiden - The Thrilling Climax!
Ghosts 'n Goblins - The Great Demon Lord Awaits
Blaster Master - The Underworld Lord Awaits
Zelda 2: The Adventure of Link - Link, Warrior without Equal
Kirby's Adventure - Now with Extra Game!
Kid Icarus - The Three Sacred Treasures
Star Soldier - Certain Victory on Stage 8
TwinBee - A Second Helping of Donburi Island!
Mighty Bomb Jack - High Game Deviation Value!
Super Mario Bros. 3 - Mario, the Quick-Change Artist!
Nintendo Switch Online: NES-games die enkel in Japan beschikbaar zijn:
Adventures of Lolo
Joy Mech Fight
Tsuppari Oozumou
Fire Emblem: Shadow Dragon and the Blade of Light
Yie Ar Kung-Fu
Clu Clu Land: Welcome to New Clu Clu Land
Downtown Nekketsu Kōshinkyoku: Soreyuke Daiundōkai
NES Open Tournament Golf (SP-versie)
Famicom Wars
Route 16 Turbo
Atlantis no Nazo
Fire Emblem: Shadow Dragon and the Blade of Light (SP-versie)
Fire Emblem: Shadow Dragon and the Blade of Light (SP-versie 2)
Smash Ping Pong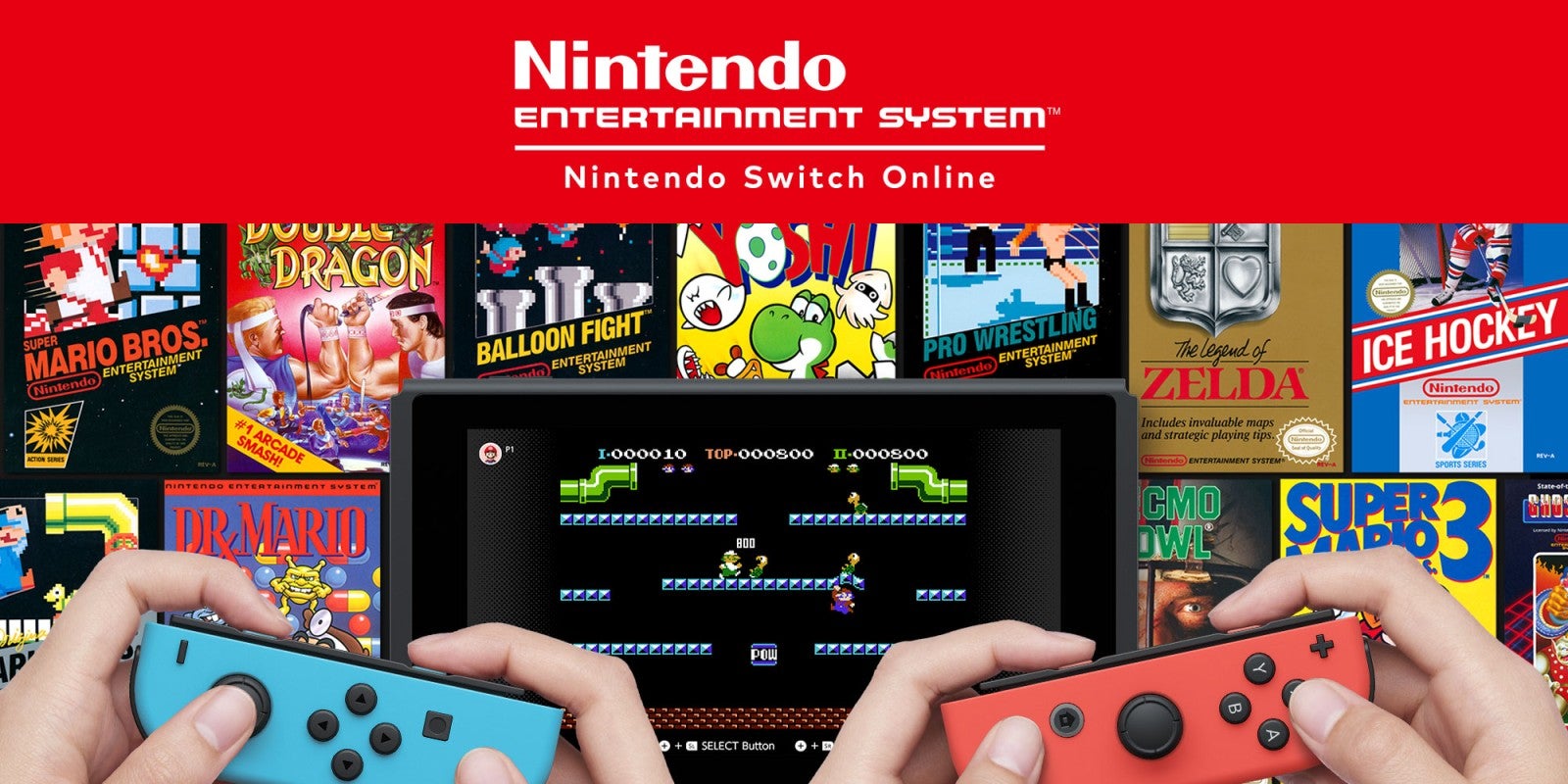 ---
Nintendo Switch Online: lijst met alle SNES-games
De volgende SNES-games zijn inbegrepen in het basispakket van Nintendo Switch Online:
Nintendo Switch Online: Alle SNES-games:
Super Mario World
Super Mario Kart
The Legend of Zelda: A Link to the Past
Super Metroid
Stunt Race FX
Kirby's Dream Land 3
Super Mario World 2: Yoshi's Island
Star Fox
F-ZERO
Pilotwings
Kirby's Dream Course
BRAWL BROTHERS
Breath of Fire
Demon's Crest
Joe & Mac 2: Lost in the Tropics
SUPER E.D.F. EARTH DEFENSE FORCE
Super Ghouls 'n Ghosts
Super Puyo Puyo 2
Super Soccer
Super Tennis
Star Fox 2
Kirby Super Star
Super Punch-Out!!
Breath of Fire 2
Pop'n Twinbee
Smash Tennis
Wild Guns
Panel de Pon
Operation Logic Bomb (Enkel in het westen)
Donkey Kong Country
Natsume Championship Wrestling (Enkel in het westen)
Super Mario All-Stars
Donkey Kong Country 2: Diddy's Kong Quest
Mario's Super Picross
The Peace Keepers (Enkel in het westen)
Donkey Kong Country 3: Dixie Kong's Double Trouble!
The Ignition Factor
Super Valis 4 (Enkel in het westen)
Tuff E Nuff
Doomsday Warrior
Prehistorik Man (Enkel in het westen)
Psycho Dream
Joe & Mac
Magical Drop 2
Spanky's Quest
Super Baseball Simulator 1.000
Claymates
Jelly Boy
Bombuzal
EarthBound
Earthworm Jim 2 (Enkel in het westen)
Congo's Caper
Rival Turf!
Fighter's History
Kirby's Avalanche
Nintendo Switch Online: Alle speciale versies van SNES-games:
Kirby's Dream Course - Dance along with Kirby!
Kirby's Dream Land 3 - Set difficulty to Easy Breezy!
Kirby Super Star - Meta-Knights revenge!
Super Mario Kart SP - Fully Souped Up!
Super Metroid SP - Samus Aran's Ultimate Arsenal!
Super Mario World SP - Give the world a whole new look!
Super Punch-Out!! SP - Champion Edition
Nintendo Switch Online: SNES-games die enkel in Japan beschikbaar zijn:
Shin Megami Tensei
Fire Emblem: Mystery of the Emblem
Kunio-kun no Dodgeball da yo Zen'in Shūgō
Sugoi Hebereke
Shin Megami Tensei II
Fire Emblem: Genealogy of the Holy War
Shin Megami Tense If
Harvest Moon
Umihara Kawase
Kirby's Star Stacker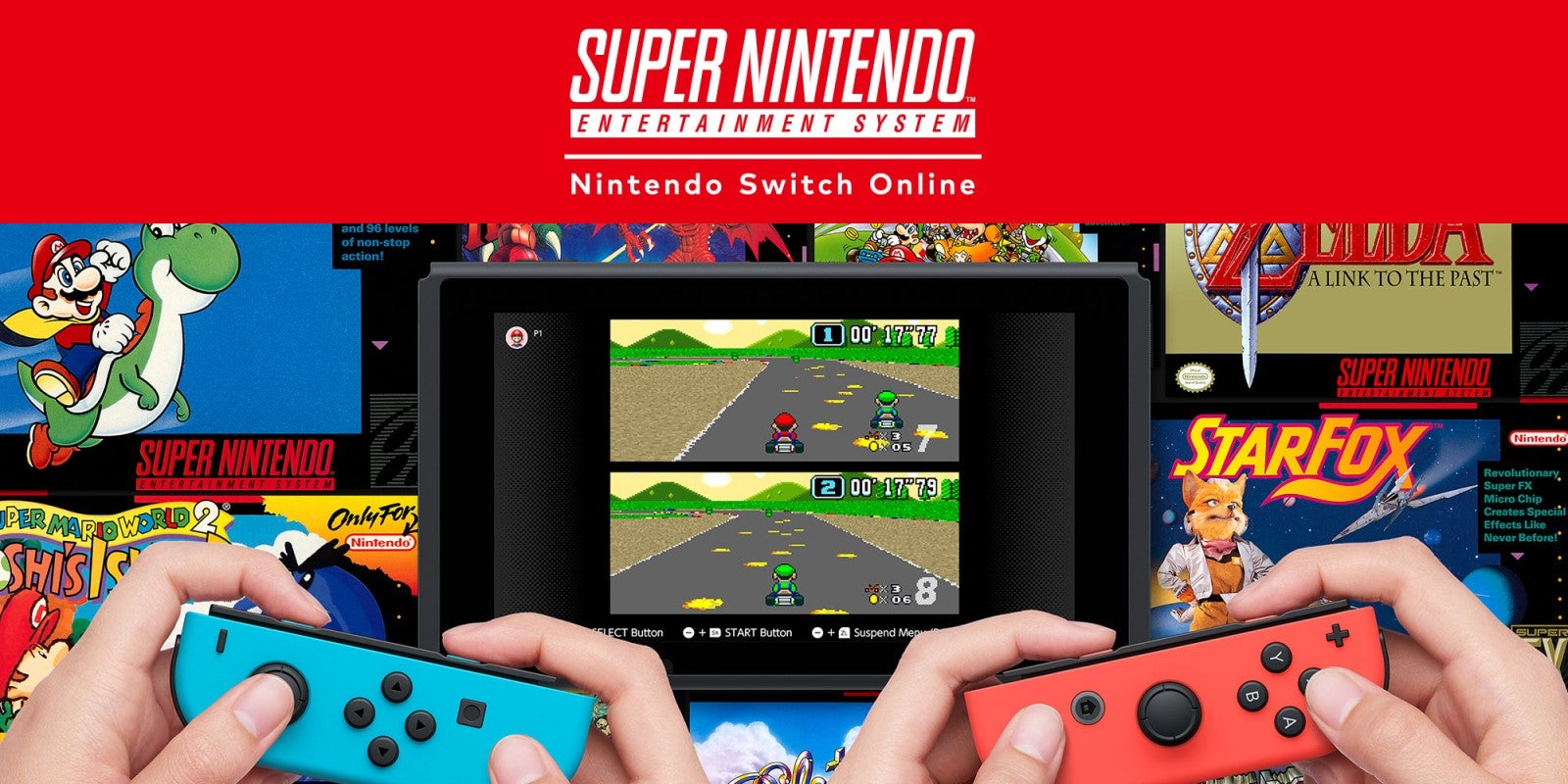 ---
Nintendo Switch Online: lijst met alle N64-games:
Hieronder vind je alle Nintendo 64-games die bij het Uitbreidingspakket van Nintendo Switch Online inbegrepen zijn:
Nintendo Switch Online: Alle N64-games:
Super Mario 64
The Legend of Zelda: Ocarina of Time
Mario Kart 64
Star Fox 64
Sin and Punishment
Dr. Mario 64 (Enkel in het westen)
Mario Tennis
WinBack
Yoshi's Story
Paper Mario
Banjo-Kazooie
The Legend of Zelda: Majora's Mask
F-Zero X
Mario Golf
Kirby 64: The Crystal Shards
Pokémon Snap
Pokémon Puzzle League
Wave Race 64
Nintendo Switch Online: N64-games die enkel in Japan beschikbaar zijn:
Custom Robo
Custom Robo V2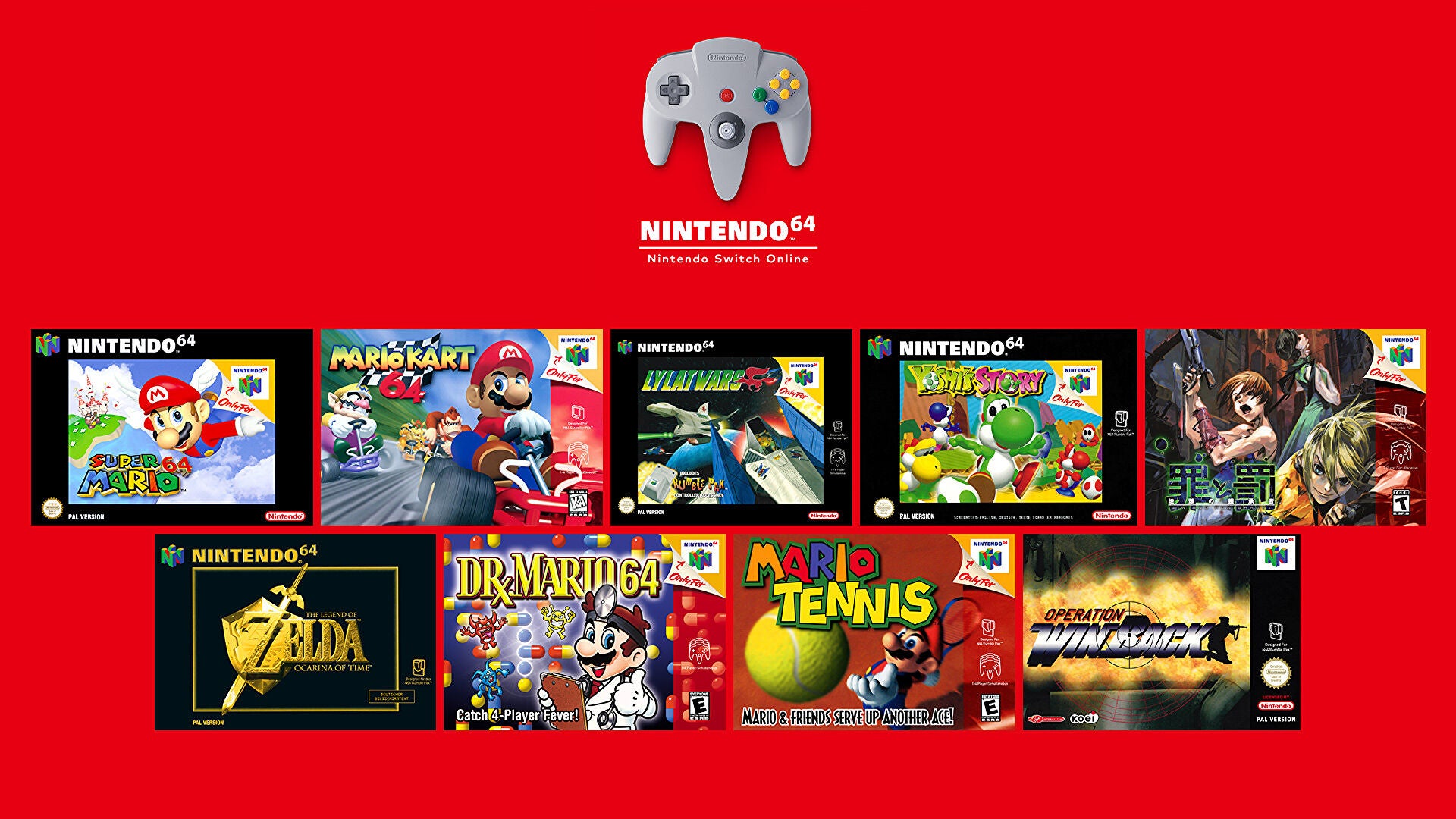 ---
Nintendo Switch Online: lijst met alle Sega Mega Drive-games:
Hieronder vind je alle Sega Mega Drive-games die bij het Uitbreidingspakket van Nintendo Switch Online inbegrepen zijn:
Nintendo Switch Online: Alle Sega Mega Drive-games:
Sonic the Hedgehog 2
Streets of Rage 2
Ecco the Dolphin
Castlevania: Bloodlines
Contra: Hard Corps
Dr. Robotnik's Mean Bean Machine
Golden Axe
Gunstar Heroes
M.U.S.H.A.
Phantasy Star IV
Ristar
Shining Force
Shinobi III: Return of the Ninja Master
Strider
Altered Beast
Dynamite Headdy
Sword of Vermilion
ToeJam & Earl
Thunder Force II
Light Crusader
Super Fantasy Zone
Alien Soldier
Space Harrier 2
Shining Force 2
Sonic the Hedgehog Spinball
Comix Zone
Target Earth
Zero Wing
Mega Man: The Wily Wars
Earthworm Jim
Alisia Dragoon
The Story of Thor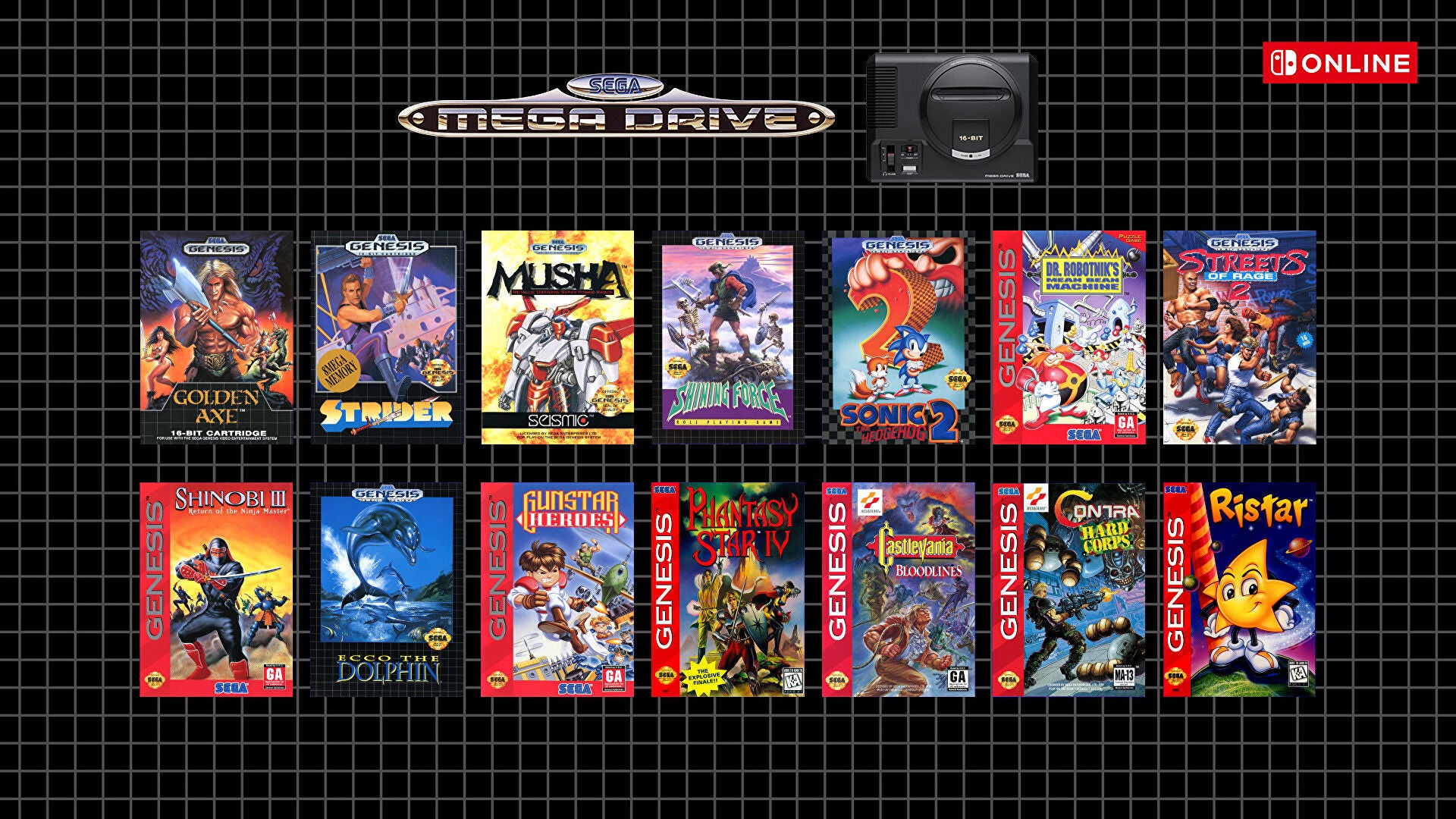 ---